Receive Money from Around The World with Kasheto
Quickly and easily receive and request money online with Kasheto.
Over 180 countries and 120 currencies supported.
See How it Works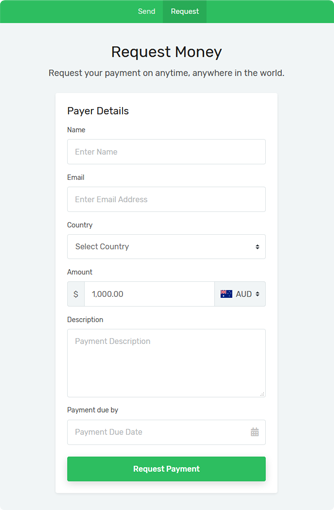 The simple way to Receive Money
Start receiving instant funds in 120+ currencies and from 180+ countries around the globe with Kasheto.
Sign Up Your Account
Become a register user first, then log in to your account and enter your card or bank details that is required for you.
Enter Payer Details
Enter your payer name, email address then add an amount with currency to request payment.
Receive Money
After the payment request has been sent, the payer will be notified via his/her dashboard to make payment for the requested ammount and the payee receives the fund into his/her Kasheto wallet immediately once sent.
Why choose Kasheto?
Here are Top 6 reasons why using a Kasheto account for manage your money.
Over 180 countries
.............................................
Lower Fees
You save cost when you choose Kasheto for local and international money transfer and payment services.
Easy to Use
Kasheto provides the simplest and fastest way to transfer money to friends, family, or pay for goods/services in just few steps.
Faster Payments
Our payment service allows you to shop and pay for goods/services on the spot without any waiting time.
100% secure
Transactions made through Kasheto are secured with strong SSL/TLS encryption. The website is hosted on very secure servers that are regularly updated and safeguarded.
24/7 customer service
We have the helpdesk that you can rely on. Our customer service representatives are highly trained and everly ready to take your enquiries and complaints and to provide immediate solutions.